(Summer) (Winter)
Mon to Sat: 5pm to 9pm and 5pm to 8.30pm
Sun: 5pm to 8.30pm and 5pm to 7.30pm
please check today's specials on the blackboard

Pop up to the counter to take a look or ask one of our team
Wines Autumn / Winter 2021
Our Favourites
GORDONS


GIN & TONIC
£4.95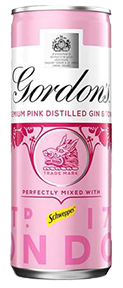 GORDONS
PINK GIN & TONIC
£4.95
House Wine (by the glass) 175ml / 250ml
SAUVIGNON BLANC Vignerons de Valencay £4.95 / £6.95
SAUVIGNON BLANC Little Beauty £7.50 / £9.00
MONTEPULCIANO D'Abruzzo il Faggio £5.90 / £7.65
PINOT GRIGIO Corte Giara £4.95 / £6.95
PINOT GRIGIO ROSATA D'Abruzzo il Faggio £5.90 / £7.60
MONTEPULCIANO D'Abruzzo il Faggio £5.90 / £7.65
SHIRAZ Murphy's Vineyard £4.95 / £6.95
MERLOT Primera Luz £4.95 / £6.95
PROSECCO Millesimato Biscardo (125ml) £4.95
WE HAVE SOME GREAT MONTHLY SPECIALS BY THE GLASS TOO.
PLEASE CHECK "OUR FAVOURITES" FOR DETAILS
White Wine (by the bottle)
ALVARIÑO £24.95
MORGADIO DA TORRE (ALVARINHO PORTUGAL)
Beautifully elegant, this will liven up your palette with flavours of white fruit and citrus.
CHARDONNAY £19.95
MONTSABLE VIN DE PAYS D'OC (FRANCE)
Burgandian style, un-oaked with a simple, clean, classic flavour
PINOT GRIGIO £17.95
CORTA GIARA (ITALY)
Elegant, florally fresh and classically simple "exceedingly exceptional"
SAUVIGNON BLANC £17.95
VIGNERON DE VALENCAY (FRANCE)
100% Sauvignon Blanc from the Loire Valley, as a "House" wine it doesn't get any better.
SAUVIGNON BLANC £26.95
LITTLE BEAUTY (MARLBOROUGH NEW ZEALAND)
Classically intense, crisp and fresh, from one of the best Sauvignon Blanc regions of the world.
PONTE PIETRA PINOT GRIGIO (ITALY) £16.95
Soft, rounded and very drinkable
CUVEE DE LICES COTES DE PROVENCE (FRANCE) £19.95
Crisp yet creamy, steeped in Provencal tradition and deliciously summery
prosecco • sparkling wine
(by the bottle)
MILLESIMATO BISCARDO (ITALY) £17.95
Clean, crisp, apples and pears and lots of fun
BIRD IN HAND SPARKLING PINOT NOIR (AUSTRALIA) £22.95
Vibrant strawberry flavours, perfect for celebrations
AUSTRALIA SHIRAZ £18.95
MURPHY'S VINEYARD BIG RIVERS SHIRAZ
Peppery spice, but soft and rounded, easy drinking
CALIFORNIA PINOT NOIR £24.95
LONG BARN PINOT NOIR (NAPA VALLEY)
Beautiful silky flavours with a long gentle vanilla spice fruit finish. Please try it.
FRANCE LANGUEDOC £18.95
FELICETTE GRENACHE NOIR (Languedoc)
Never heard of it? Try it, it's so easy, so nice, and just so damn good. Southern French fruity sunshine.
FRANCE MERLOT £18.95
LES VIGNOBLES DE FONCALEAU "LA FONTRESSE"
Merlot (Pays D'oc) Never heard of it? Try it, it's so easy, so nice, and just so damn good. Southern French fruity sunshine.
ITALY MONTEPULCIANO £19.95
IL FAGGIO MONTEPULCIANO D'ABRUZZO
Deep, dark and a little mysterious. Big on flavour, yet softly delicious.
PORTUGAL DUORO VALLEY £19.95
CASA FERREIRINHA "VINHA GRANDE" (DOURO VALLEY)
Outstanding quality with intense fruity aromas, this is a properly delicious mouthful of warm flavours with a long , elegant finish.
SPAIN RIOJA £22.95
VINA IZADI RIOJA RESERVA
Intensely aromatic and cracking, easy drinking Reserva
Prosecco • fizz (by the bottle)
MILLESIMATO BISCARDO (ITALY) £17.95
Clean, crisp, apples and pears, lots of fun
BIRD IN HAND SPARKLING PINOT NOIR (AUSTRALIA) £22.95
Vibrant strawberry flavours, perfect for celebrations
CORONA £3.95
Mexican Lager
INNIS & GUNN £3.95
Oak aged Beer
PERONI £3.95
Italian Premium Lager
BECKS BLUE (ALCOHOL FREE LAGER) £3.00
Classic German style pilsner lager
HEINEKEN ZERO £3.00
Zero Alcohol Beer
SKINNER'S £3.95
Betty Stogs Bitter Cornish Beer
WYLDWOOD £3.95
Organic Cider
SHEPPY'S £3.95
Vintage reserve, Somerset Cider
Coffee • tea • hot chocolate
STRAIGHT COFFEE MUG £1.80
WITH CREAM & MARSHMALLOWS £3.15
BIRCHALL TEAS £1.80
Chamomile • Green Tea • Mint • Lemongrass & Ginger
Smoothies and soft drinks
FRESH FRUIT SMOOTHIES £3.65
Our own daily recipe made with just fruit
MILKSHAKES £3.95
Chocolate – Vanilla – Strawberry – Banana
FEELGOOD JUICY WATER £1.95
BALLYGOWAN STILL WATER 500ML £1.75
SAN PELLEGRINO SPARKLING WATER 500ML £1.85
BELU STILL WATER 75CL £3.25
BELU SPARKLING WATER 75CL £3.25
SPRITE, COCA COLA REGULAR OR DIET £1.75
SAN PELLEGRINO LIMONATA – BLOOD ORANGE £2.25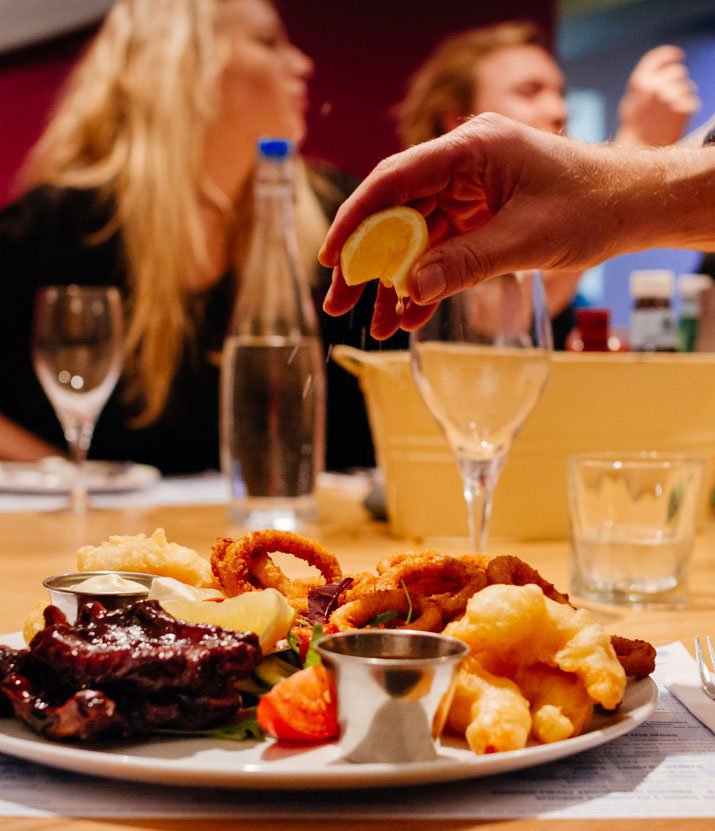 For special occasions whether breakfast, lunch or dinner, you can book the Boardroom for parties up to 14
+44 (0)1534 482009
Talk to us – comments@elticojersey.com