(Summer) (Winter)
Mon to Sat: 5pm to 9pm and 5pm to 8.30pm
Sun: 5pm to 8.30pm and 5pm to 7.30pm
please check today's specials on the blackboard

Pop up to the counter to take a look or ask one of our team
our apologies but due to current volatile supply chain issues prices may be subject to change without notice
Autumn & Winter 2023/4 OUR FAVOURITES
House Wine
(by the glass) 175ml / 250ml
SAUVIGNON BLANC Vignerons de Valencay £5.50 / £7.50
SAUVIGNON BLANC NZ Marlborough £7.50 / £9.00
CHARDONNAY Montsable £5.50 / £7.50
PINOT GRIGIO Corte Giara £5.50 / £7.50
PINOT GRIGIO ROSATA Ponte Pietra £5.50 / £7.50
MONTEPULCIANO D'Abruzzo il Faggio £5.95 / £7.95
SHIRAZ Murphy's Vineyard £5.50 / £7.50
MERLOT Primera Luz £5.50 / £7.50
PROSECCO Millesimato Biscardo (125ml) £5.95
WE HAVE SOME GREAT MONTHLY SPECIALS BY THE GLASS TOO.
PLEASE CHECK "OUR FAVOURITES" FOR DETAILS
White Wine
(by the bottle)
ALVARIÑO 
MORGADIO DA TORRE (ALVARINHO PORTUGAL) £24.95
Beautifully elegant, this will liven up your palette with flavours of white fruit and citrus.
CHARDONNAY 
MONTSABLE VIN DE PAYS D'OC (FRANCE) £19.95
Burgandian style, un-oaked with a simple, clean, classic flavour
PINOT GRIGIO
CORTA GIARA (ITALY) £18.95
Elegant, florally fresh and classically simple "exceedingly exceptional"
SAUVIGNON BLANC
VIGNERON DE VALENCAY (FRANCE) £18.95
100% Sauvignon Blanc from the Loire Valley, as a "House" wine it doesn't get any better.
LITTLE BEAUTY (MARLBOROUGH NEW ZEALAND) £27.95
Classically intense, crisp and fresh, from one of the best Sauvignon Blanc regions of the world.
Rosé Wine
(by the bottle)
PONTE PIETRA PINOT GRIGIO (ITALY) £17.95
Soft, rounded and very drinkable
CHATEAU MINUTY M COTES DE PROVENCE (FRANCE) £24.95
Considered by many to be the gold standard for classic, old school, crisp, pale Provence Rose, and we couldn't agree more. It's perfect for summer drinking.
Prosecco • sparkling wine
(by the bottle)
MILLESIMATO BISCARDO (ITALY) £19.95
Clean, crisp, apples and pears and lots of fun
BIRD IN HAND SPARKLING PINOT NOIR (AUSTRALIA) £23.95
Vibrant strawberry flavours, perfect for celebrations
AUSTRALIA
MURPHY'S VINEYARD BIG RIVERS SHIRAZ £19.95
Peppery spice, but soft and rounded, easy drinking
CALIFORNIA
LONG BARN PINOT NOIR (NAPA VALLEY) £24.95
Beautiful silky flavours with a long gentle vanilla spice fruit finish. Please try it.
Chile
Primera Luz Merlot £19.95
Fresh, raspberry and strawberry nose, with a light & juicy palate bursting with forest fruit
FRANCE
FELICETTE GRENACHE NOIR (Languedoc) £19.95
Never heard of it? Try it, it's so easy, so nice, and just so damn good. Southern French fruity sunshine.
ITALY
IL FAGGIO MONTEPULCIANO D'ABRUZZO £19.95
Deep, dark and a little mysterious. Big on flavour, yet softly delicious.
SPAIN
Cather Roble, Tempranillo £22.95
With a hint of Spice, the backdrop is plums with the fruitiness that us velvety and delicious
Beer • Lager • Cider
CORONA £4.50
Mexican Lager
INNIS & GUNN £4.50
Oak aged Beer
PERONI £4.50
Italian Premium Lager
BECKS BLUE (ALCOHOL FREE LAGER) £3.50
Classic German style pilsner lager
SKINNER'S £4.95
Betty Stogs Bitter Cornish Beer
WYLDWOOD £4.95
Organic Cider
SHEPPY'S £4.95
Vintage reserve, Somerset Cider
Coffee • tea • hot chocolate
STRAIGHT COFFEE MUG £1.90
WITH CREAM & MARSHMALLOWS £3.50
BIRCHALL TEAS £1.95
Chamomile • Green Tea • Mint • Lemongrass & Ginger • Redbush • Earl Grey
Smoothies and soft drinks
FRESH FRUIT SMOOTHIES £3.95
Our own daily recipe made with just fruit
MILKSHAKES £3.95
Chocolate ~ Vanilla ~ Strawberry ~ Banana
FIREFLY £2.65
Kiwi ~ Lime & Mint ~ Peach & Green Tea
BALLYGOWAN STILL WATER 500ML £1.95
SAN PELLEGRINO SPARKLING WATER 500ML £2.25
BELU STILL WATER 75CL £3.45
BELU SPARKLING WATER 75CL £3.45
SPRITE, COCA COLA REGULAR OR COCA COLA DIET £2.25
SAN PELLEGRINO LIMONATA – BLOOD ORANGE £2.45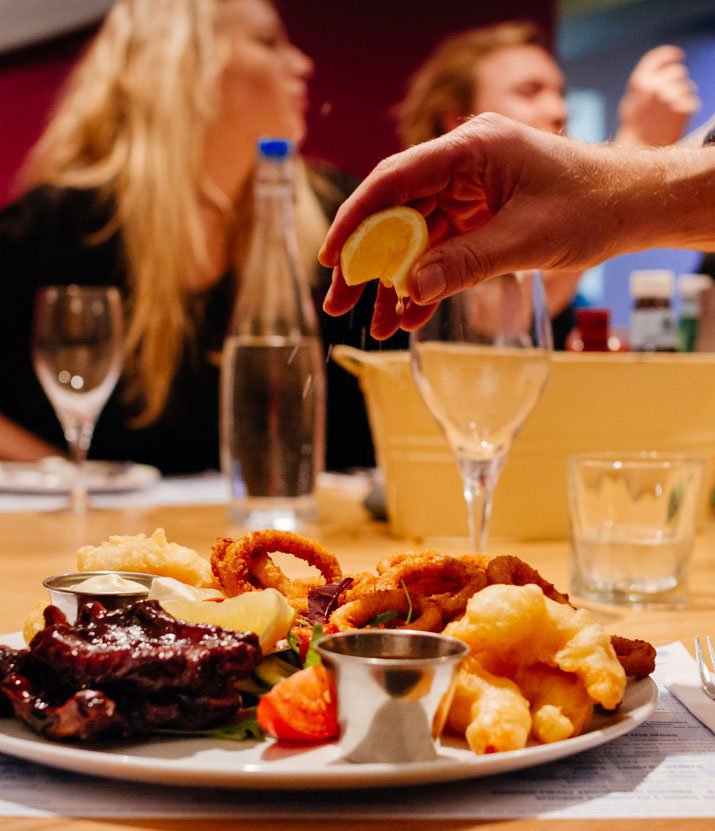 For special occasions whether breakfast, lunch or dinner, you can book the Boardroom for parties up to 14
+44 (0)1534 482009
Talk to us – comments@elticojersey.com